FLEXI-BOX
The FLEXI-BOX is used for all of our current ready built Products such as amplifiers, bridges, splitters, bias tee etc and is also available for building your own professional looking projects. It is a unique RF and Microwave screened enclosure that is milled from an aluminium block and then alochromed (Alodine 1200). The box can be fitted with BNC, N, SMA or TNC connectors as supplied by us or any BNC and TNC connectors with a standard 11/16" flange. All of the required connectors and any necessary blanking plates come ready fitted using 304 Stainless Steel screws.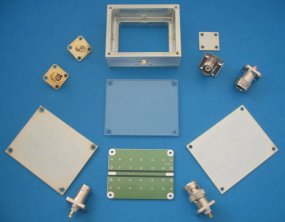 Typical Component parts of a FLEXI-BOX kit.
The FLEXI-BOX is now manufactured in three sizes:-
Original Size FLEXI-BOX 63.5 mm long x 50 mm wide x 30.5 mm deep
Smaller size Mini FLEXI-BOX 50 mm long x 35 mm wide x 23.5 mm deep.
Smallest size Micro FLEXI-BOX 35 mm long x 35 mm wide x 23.5 mm deep.
All three boxes can be fitted with the same series of connectors and any unused holes can be covered with the same size blanking plates, thus making it a very flexible system. There are no holes to drill, metal to saw or threads to be cut. The only tool needed to work on the box is a small cross headed screwdriver.
The lid for the box is aluminium and is covered with a clear plastic top. An escutcheon is sandwiched between the lid and the top. This can be a high quality paper type as supplied by us for ready built units, or special versions can be printed using a PC and printer on any material that is suitable. This gives a very professional appearance to your custom built box and enables you to declare the performance limits of your own individually designed circuitry. You could also add your own (company) name or logo. A selection of escutcheon drawings are available for downloading as .zip or .bmp files and these can be modified to your needs using Paint or some similar software.
If you are laying out your own PCB, there are some tools on this site to assist you. There is an easy, high accuracy method for the measurement of Relative Dielectric Constant (εr) for those in a hurry, and a five page write up on how this method was evolved. There are also three calculators for track dimensions in microstrip and one for coplanar waveguide provided. After making a sample PCB, you can then measure the resulting track impedance with the aid of the characteristic impedance calculator
Some other kits are available with dedicated PCB's as shown in the photograph below. All ready built items use dedicated PCB's.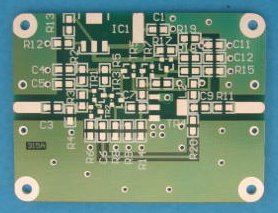 Some models have a write up and some have calculators. This enables values to be easily selected for custom performance.